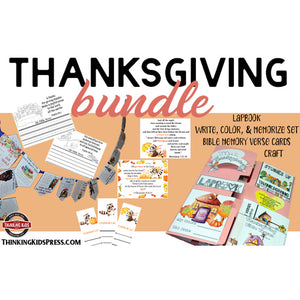 Thanksgiving Bible Study Bundle
Regular price $20.00 $15.00 Sale
The product is a digital download.
Teach your kids to give thanks to God in an engaging, hands-on way with the Thanksgiving Bible Study Bundle.
You'll receive four hands-on tools to use in your family Bible studies. Your children will take an in-depth look at what the Bible says about praising God, giving thanks with a grateful heart, why and how we give thanks, and more.
In this Family Bible Study Bundle, you'll receive four separate products:
The bundle is available in ESV or KJV, with a household or classroom license. With your Family Bible Study Bundle purchase, you'll save substantially on the price of the individual items by purchasing them as a bundle.