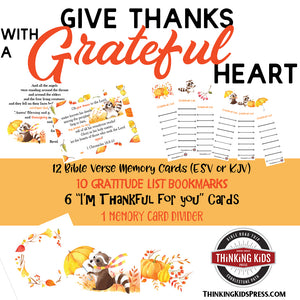 Give Thanks with a Grateful Heart Card Set
The Give Thanks with a Grateful Heart card set is designed to help you and your children memorize verses that will help you give thanks to the Lord. There are gratitude list bookmarks to help you give thanks in prayer, and "I'm thankful for you" notecards you can send to others. There's also a Bible memory verse card divider for you.
Give Thanks with a Grateful Heart Bible Verse Memory Cards
There are 12 Bible verse memory cards. These are available in either ESV or KJV--just chose the set you'd like in the dropdown menu once you get to the store.
The Bible memory verse cards can be used a number of ways. Here are a few ideas:
Memorize 3 a week as a family. In a month you'll have them all memorized!
Use the cards as copywork passages for your children.
Read a card before your family prayer time and talk about what the verse or passage means.
The card set includes a divider for your memory verses. You can use this divider in a memory verse box your family decorates together, or you can use it with a book ring to divide memory card sets, like the Prayer Bible Memory Verse Card Set.
Give Thanks with a Grateful Heart Gratitude List Bookmarks
There are 10 gratitude list bookmarks, each with room for 7 things you're grateful for. Five bookmarks have a fall graphic for moms and a prayer list on one side, with a fun coordinating autumn and raccoon pattern on the other side. The other five bookmarks come with a raccoon graphic on the front side--these will be great for your children.
These bookmarks are a great reminder to give thanks to the Lord throughout the day. Here are a few ways to use them:
Fill out the bookmarks with everything you are grateful for and rotate the bookmarks over 5 weeks, giving thanks to the Lord for new blessings each week.
Fill out all 5 bookmarks and place them in your Bible, journal, daytimer, bedside book, and by your toothbrush to remind you to give thanks to the Lord throughout the day.
Print a stack of bookmarks for your women's group and give them as gifts.
Give each of your children a set of bookmarks and help them brainstorm all that they can be grateful for. Be sure to read them Matthew Henry's quote at the top of this post and discuss it.
Give Thanks with a Grateful Heart
There are 6 notecards to let others know your are thankful for them. Each has an autumn or raccoon graphic on the front, and the inside of each says, "I'm thankful for you today." Use these cards to let someone know why you're thankful for them!
These gratitude notecards are a great way to edify others. Here are a few ways for you and your children to use them:
When the Lord puts someone on your heart, write them an encouraging note and drop it in the mail, letting them know you're thankful for them.
Encourage your friend know what you're praying, encouraging her to seek the Lord in all she does.
Write a helpful verse or two in the card.
Attach the card to a small gift, like chocolate or a bouquet of flowers, to remind a friend she's valued.
Help your children write an encouraging note to a relative on a weekly basis. It's great writing practice--and it will make someone special feel loved!
How to Print the Give Thanks with a Grateful Heart Card Set
I often get asked how to print Thinking Kids resources. Here's my very best advice. Take it and adapt it for your own good uses.
Once you purchase your Give Thanks with a Grateful Heart Card Set through the Thinking Kids Store, you will receive an email with a download link. You can also find the download link on the screen immediately following payment. If you don't see your email show up soon after purchase, check your spam folder.
Download your PDF file and save it to your computer.
Print these cards on duplex (back-to-back or double-sided). You'll want to flip on the SHORT edge for these. You should be able to change the settings for this in the Properties tab of your printer box once you download and tell your computer to print.
I recommend printing on white cardstock so the cards will be more durable and the back won't show through on the front.