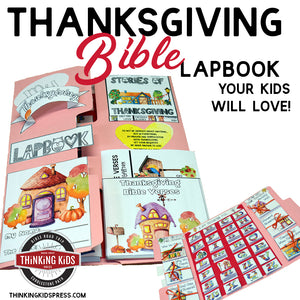 Thanksgiving Lapbook
This product is a digital product.
---
Teach your kids about praising God straight from Scripture with this Thanksgiving Bible Lesson for kids -- a lapbook and a Bible study!
We want our kids to have a biblical understanding of giving thanks. We want our kids to know and love our Lord--biblically.
It's important for our kids to slow down and really take a look at different stories in the Bible, so they really understand what Scripture is saying about a subject.
That's the reason for our lapbook series here at Thinking Kids. The Thanksgiving Lapbook is super cute and a lot of fun--and really important for your children.
---

---
Thanksgiving Bible Lesson Kids Will Love
The Bible is such an exciting adventure for our kids. We can make it even more fun with hands-on in-depth Bible lessons like lapbooks, copywork, and Bible memory verse cards!
The Thanksgiving Lapbook is an in-depth study your kids will never forget.
Take a look at this fun lapbook:
---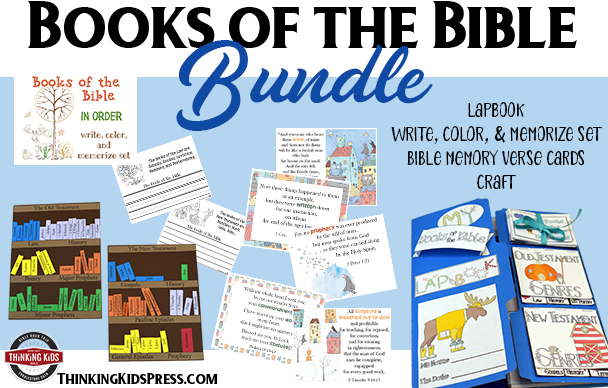 Get the Books of the Bible Study Bundle and save!
---
Thanksgiving Bible Lesson for Kids
The Thanksgiving Lapbook is a fun, hands-on study of the Bible for your child from the ages of 5-12.
You and your child will study:
Stories of thanksgiving from the Bible.
Giving thanks to God, with verses to memorize.
Who we thank when we practice thanksgiving.
Why we thank God.
Ways God has blessed us.
What it means to worship well.
How we must steward our blessings.
Why we thank God even when things are hard.
---
Thanksgiving Bible Lesson and Lapbook for Kids

Thanksgiving Minibooks and Activities
Your child will find a number of fun minibooks and activities to cut, assemble, paste, color on, and write in. Depending on the age of your child, they may need a little help assembling the lapbook components.
The minibooks and activities include:
3-D Banner
Lapbook Cover
Layered Book
Verse Frame
Bible Verse Pocket and Memory Cards
Accordion Books
Minibook Game
Exploring the Bible in this hands-on way gives your child a permanent record of their study. They will remember what they've learned through a deep look at praising God in all things.
---
Supplies You'll Need for Your Thanksgiving Bible Lesson for Kids
You'll need a few supplies to put together your lapbook. You probably already have most of these. If not, it's worth investing in them as you will use them again and again with your kids.
A Colored File Folder
A Sheet of Cardstock in a Complimentary Color
Printer Paper
Scissors
1/8" Ribbon
A Glue Stick
A Stapler
Colored Pens to Write With
Colored Pencils to Color With
---
The Thanksgiving Bible Lesson Lapbook will give your child hours of thoughtful Bible study, with visuals they'll never forget.
---