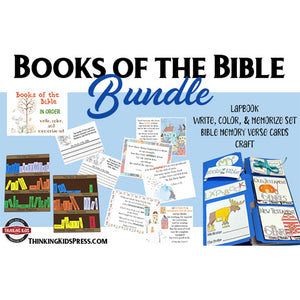 Books of the Bible Study Bundle
Regular price $23.00 $15.00 Sale
The product is a digital download.
Teach your kids about the 66 books of the Bible in an engaging, hands-on way with the Books of the Bible Study Bundle.
You'll receive four hands-on tools to use in your family Bible studies. Your children will take an in-depth look at what the Bible says about Scripture, the order of the books of the Bible, how the books of the Bible are categorized, and the date, author, theme, and genre of each book of the Bible.
In this Family Bible Study Bundle, you'll receive four separate products:
The bundle is available in ESV or KJV, with a household or classroom license. With your Family Bible Study Bundle purchase, you'll save substantially on the price of the individual items by purchasing them as a bundle.