My Homeschool Planning Journal
Regular price $15.00 Sale
This product is a digital PDF download.
Do you need a little help planning the coming homeschool year? Would you like a resource to help you keep your information for every child together all in one place?
Me too! That's why I've designed the Homeschool Curriculum Planner–so we can both get organized and stay organized!
A Homeschool Planning Solution: A Homeschool Curriculum Planner that Works
For years, I kept all my homeschool scheduling information in one spot–a spiral bound notebook. The design was a little uninspiring (being just plain lines and all), and having to recreate each page was tedious. I decided last year to make my own, and to share with you as well. Over the course of the year, I've improved on the journals a bit. I added instructions, combined the three separate journals, added daily schedule pages, and created the My Homeschool Planning Journal.
As you can see in the images, there are three designs available: Rabbits, Coloring, and Coffee. You can choose your favorite and reuse the digital file to print yourself a new one each year, or you can switch it up with a different version every school year! Each homeschool curriculum planner is a 152-page digital PDF download.
The Homeschool Curriculum Planner ~ Three Important Sections
Plan Your Homeschool Year: Instructions
Each journal has four full pages of instructions to help you plan your year–and your homeschool!
Plan Your Homeschool Objectives
What We Value in Our Home
The What We Value overview page will help you and your spouse assess what the core values for your homeschool are. With just a few areas to fill in, you can review this page over and over again throughout the year to be certain you're still working toward the goals you hold dear. This will help you stay on-track!
Each journal comes with four sets of planning pages for use with four children. Of course, you can easily print more sets–or fewer, if needed.  Each planning set has four pages for targeted developmental goal setting. Let's take a look, shall we?
Spiritual Development
This is such an important area of development to take into account! Set goals for the spiritual development of each child.
Physical & Life Skills Development
Homeschooling offers the perfect opportunity to help kids develop appropriate physical and life skills, like exercising, nutrition, home economics, and even job skills. Plan what you'll focus on for the year ahead.
Academic Development
Academics are generally what we think of when we think of school, aren't they? Here you can plan your attack for each child's academic development for the year.
Relational Development
Last, but definitely not least, establish your relational objectives for each child for the year. How will your child work on loving others this year?
Plan Your Homeschool Subjects and Supplies
The Our Subjects and Supplies section will help you decide what subjects to cover with each child, establish comparison shopping lists while looking at curricula, then create a purchasing list for both resources and supplies. Throughout the year, it will serve as a handy reference guide for your overall plans, library, and even craft and science supplies.
Subjects to Study
There are Subjects to Study worksheet sets for four students, each comprised of three pages. Again, if you need more sets–or less, you can print accordingly. You won't want to schedule work for your children in every subject area, but these worksheets will help you think through your plan of attack.
The primary subjects sheet covers the basics: Bible, Christian history, character, theology, history, science, current events, math, and physical education. Of course, you may not choose to cover each subject. For younger children, Bible may be sufficient to cover character, theology, and Christian history. For high school, that will probably not be the case.
Language arts disciplines is covered on an individual sheet. The sections studied will vary by age and family, but this should cover most of the available language arts subjects you may wish to have your child study.
There are all kinds of electives available for your child to study. Of course, you can't possibly study all in one year (don't do it!). But here you'll find a worksheet that will help you think through some of your available options.
Our Curriculum List
There are two pages of curriculum lists for four children (print more or less as needed). These curriculum planning worksheets allow you to list the subjects each child will be studying, and to compare available curricula with pros and cons, prices and purchasing locations, and to check each off once you've purchased the curriculum (or put an X if you've decided against it).
Resource List
The resource list has numbered spaces for 50 items. Use it to help you while you're shopping for books, instruments, etc. For those of us using a literature-based curriculum, this is a must! Also, this list is helpful to catalog YouTube videos, project instructions you find on Pinterest, and more.
Supply List
The supply list also has space for 50 items. On this list, you can include school supplies like paper and pens, art supplies for projects, and supplies for science experiments, musical instruments, etc. With the "Weeks Used" column, you'll know exactly when you need to have each supply, and you can add to this list throughout the year.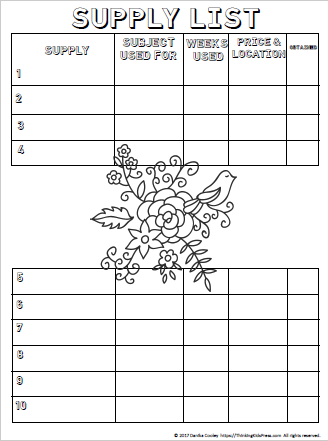 Plan Your Homeschool Week-by-Week
The Our Plans section will help you schedule your homeschool. Now that you know what your objectives are, what subjects you're studying, and what curriculum, resources, and supplies you need, it's time to plan each week of your year.
Schedule Your Time
There are two weekly schedules  in each journal (one that allows for two grouped schedules–see the instructions). This is where you'll plan how your day will generally run. You'll want to schedule breaks and subjects — and what day you'll complete them on. Of course, this will become a routine, as our lives aren't run by time slots, but it helps to have a general idea how each day will go.
You'll want to put your time slots on the left, then fill in your subjects by time slot and by day.
Weekly Schedules
Each journal has 50 weekly schedules. Even if you don't school year-round, you can schedule fun projects or note ideas to try out during your breaks. Or, you can just print fewer weekly schedules. It's up to you! Each weekly schedule has space to list the resources and assignments for that week. I write my week numbers on my calendar in erasable pen. If we need to take a week off, I just renumber the weeks. That way, I'm not messing with my homeschool curriculum planner. I'm just adjusting one number on each week of my personal calendar.
Daily Schedules
There are 50 corresponding daily schedules to go with the weekly schedules. They include space to make notes for each day.  It's nice to be able to write out what yournresponsibility is for each day, to note what supplies you need to set out, or to remind yourself you have a field trip.
Printing & Storing the Journal
I printed my journal duplexed (double-sided) on thick white cardstock, then had it bound at my local printing store, but you can also print the journal single-sided on regular paper and then three-hole punch the pages before storing them in a binder.