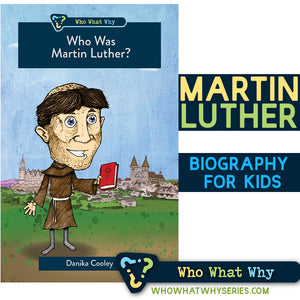 Who Was Martin Luther?
Who Was Martin Luther? is an autographed paperback.


Want to purchase the Who What Why series as in a bundle?
---
Who What Why Series | The Reformation Church

The Reformation was an important time in both the history of the Christian Church, and in global history.
God used his Word, new technology, and faithful believers to bring people to the truth of Scripture. We are saved by grace through faith in Christ alone. Scripture alone is our authority--not the word of councils or popes. We live our lives and do all things to the glory of God alone.
Teach your kids about the Reformation Church with fun narrative and important biblical truth through the Who What Why series from Danika Cooley and Christian Focus Publications.
Who Was Martin Luther?
Martin Luther was a young man who was afraid of a thunderstorm. He was a monk seeking for salvation. He was a reformer who inspired a continent to return to the Word of God. Danika Cooley introduces 9–11 year olds to this key figure in the Reformation.
---
Sometimes the people who change the world come from the most unlikely of places. Places like a little town in a little country no one paid much attention to at the time. Often the people who change the course of history are not all that important seeming until you look back and see what it is they really did with their lives.

 

Who Was Martin Luther?, Danika Cooley (Christian Focus Publications, 2021), page 9
---
Your kids can learn about the life of Martin Luther, his impact, the historical times he lived in, and the reform of the Christian Church. 
In a fun and engaging tone, the narrative Christian biography Who Was Martin Luther? will will take your kids through the life of the Father of the Reformation.
Who Was Martin Luther? chapters:
Introduction: Changing the World
Chapter One: Singing for his Supper
Chapter Two: A Philosopher
Chapter Three: O, Holy Rome
Chapter Four: The Ninety-Five Theses
Chapter Five: A Diet of Worms?
Chapter Six: Kidnapped!
Chapter Seven: A War, a Wife, and a Funeral
Chapter Eight: The Reformation Spreads
Timeline
Fabulously illustrated by Martyn Smith, the Who What Why series books are each 95 pages long with 8-9 chapters, perfect for your middle grade (ages 8-11) readers. The fun narrative makes each book an engaging family read aloud, but kids will love, too, that they can read the books on their own.
In fun sidebars, your kids will also learn about:
The Printing Press
The Bible
The Medieval Roman Catholic Church
The Black Death
Medieval Monasteries
Purgatory and Indulgences
Feudalism
Bible Translations
Table Talks
The Protestant Church
Who Was Martin Luther? is a fun way for kids to learn about a man who changed history and helped the Church remember the true gospel of Jesus Christ.
---

Christian Biographies for Kids | Christian History for Kids | Theology for Kids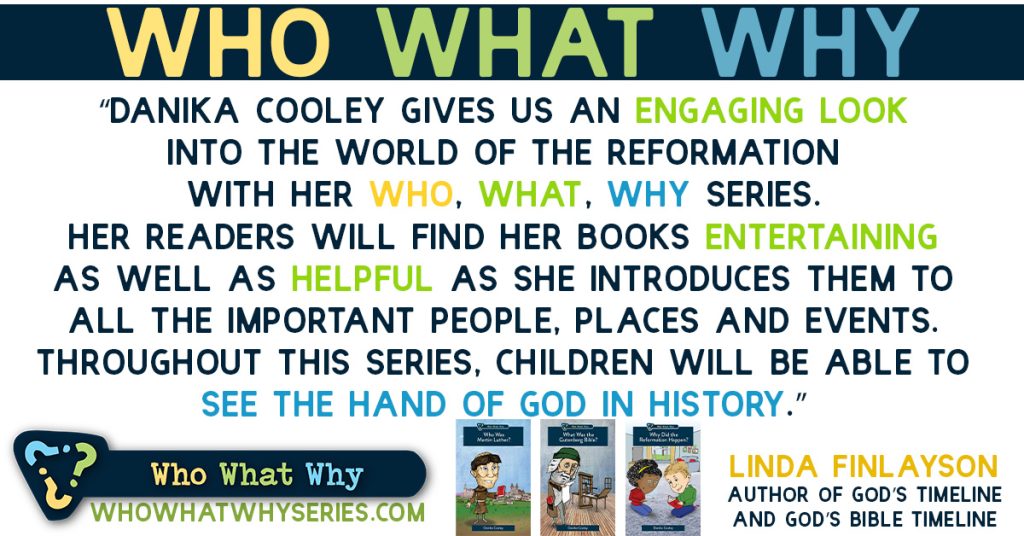 "As for the saints in the land, they are the excellent ones, in whom is all my delight." - Psalm 16:3, ESV  
Christian History Matters for Our Kids.
History matters. Now, more than ever, we see how important it is for our children to know and understand history and the Bible.
Here's why:
God is the sovereign ruler of all things. It's important for our kids to see his hand in the history of nations and in the lives of both peasants and kings. 

Christian history is the story of our family history. Our kids get to see how people who love Jesus follow him.

Understanding history can help our kids learn historic and biblical theology. They learn what the Bible says and what that means for us. They also see when the study of Scripture has taken important turns that have changed the Church.   

Reading Christian biographies and history can be a wonderful way for kids to think outside their own time and culture. God's Church spans centuries and includes people from every nation.    

Christian biographies help kids consider their own faith, walk with Jesus, and the impact their witness may one day have on others--and on history. 
Elementary-aged kids need middle grade resources that are fun, a little sassy, and that teach valuable lessons. 

The Who What Why Series is the perfect resource to teach your kids about history, while helping them apply biblical truths to their lives today.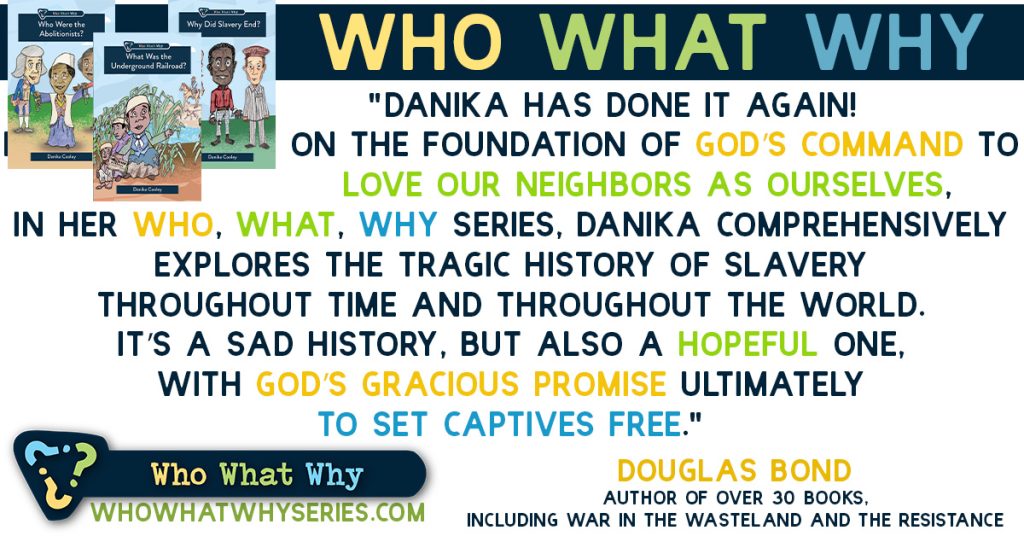 ---