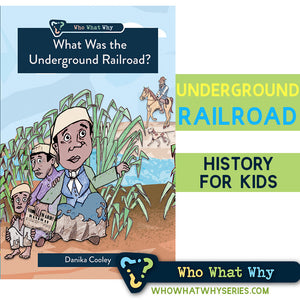 What Was the Underground Railroad?
What Was the Underground Railroad? is an autographed paperback.


Want to purchase the Who What Why Abolition or Reformation series in a bundle?
---
Who What Why Series | The Modern Church

In Christian history, the Modern Church has faced turbulence, growth, and reformation. The Modern Church has seen the rise of missions and evangelism. It has experienced brutal wars and oppressive regimes. The Modern Church, too, saw the rise–and fought for the end–of chattel slavery.
During the time of abolition, many Christians chose to glorify God by loving their neighbors as themselves. Believers searched Scripture to find what the Lord has to say about his creation. All humans are made in the image of God. We are to love and care for others. Through the preaching and teaching of God's Word, many Christians learned to sacrifice on behalf of those in need.
Teach your kids about the Modern Church with fun narrative and important biblical truth through the Who What Why series from Danika Cooley and Christian Focus Publications.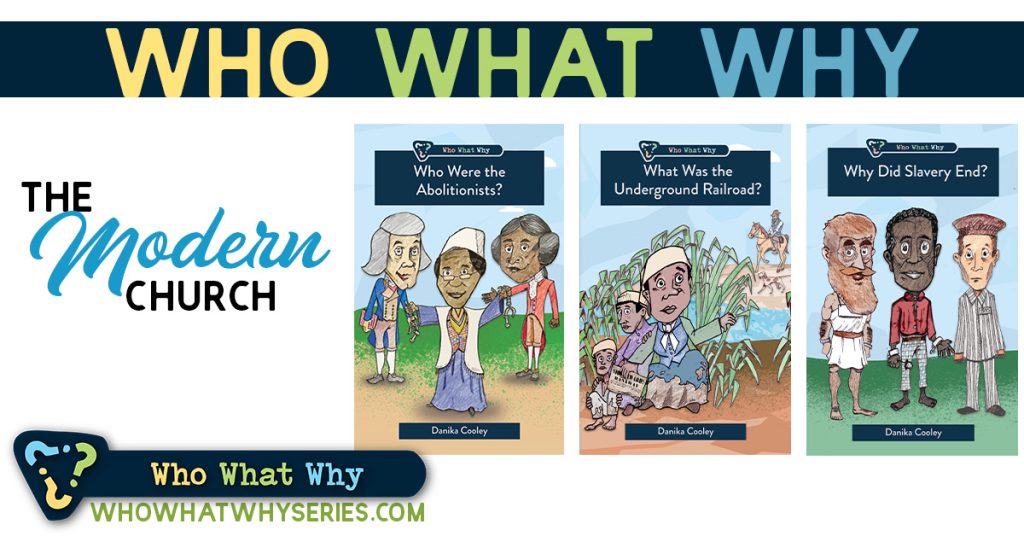 What Was the Underground Railroad?
The Underground Railroad was a secret system through which runaway slaves could escape to freedom. Abolitionists hid fugitives in their houses during the day and sent them to another home at night. These safehouses became known as stations, the people who helped were station masters and conductors, and the paths people took to freedom were lines. Learn the stories of some of the people who escaped slavery this way, and the people who ran the Underground Railroad.
---
Have you ever taken a ride on a train? It can be a lot of fun. You board the train at the station, then enjoy the countryside as you race along the line. You disembark right where you intend to arrive.

Taking a ride on the Underground Railroad was a little different.

What Was the Underground Railroad?, Danika Cooley (Christian Focus Publications, 2023), page 16
---
---
Your kids can learn about the Underground Railroad. They'll see how it was run, with stations and terminals along lines, by station masters and conductors, with passengers risking their lives in the pursuit of freedom.
In a fun and engaging tone, the narrative Christian history book What Was the Underground Railroad? will help your kids see how God sovereignly arranged events to allow ordinary Christians to overcome a terrible injustice. Your kids will learn the stories of many followers of Jesus who contributed to the freedom of others, and read stories of those who escaped enslavement. They'll see, too, how those same ordinary Christians were willing to sacrifice their own comfort, freedom, and even lives in pursuit of justice for their fellow human beings.
What Was the Underground Railroad? chapters:
Introduction: Modern Trains and Ancient Slavery
Chapter One: This Way to Freedom
Chapter Two: Paying for Tickets
Chapter Three: A Place to Rest
Chapter Four: The Light is On
Chapter Five: All Aboard
Chapter Six: Last Stop
Chapter Seven: Underground Railroad: The Truth
Timeline
---
---
---
People who obey God, not man, change the course of history. They don't change it all at once. No, history is changed just a little at a time. 

What Was the Underground Railroad?, Danika Cooley (Christian Focus Publications, 2021), page 79
---
Fabulously illustrated by Martyn Smith, the Who What Why series books are each 95 pages long with 8-9 chapters, perfect for your middle grade (ages 8-11) readers. The fun narrative makes each book an engaging family read aloud, but kids will love, too, that they can read the books on their own.
In fun sidebars, your kids will also learn about:
Ending Enslavement
Not Every Train Goes North
Extra Postage - Henry Brown
Hiding in Plain Sight - Ellen and William Craft
Changing Minds - "Eliza"
Enslaved to Free Others - Arnold Gragston
The Above Ground Railroad
God's Word: The Truth
What Was the Underground Railroad? is a fun way for kids to learn about a movement which changed history, freed captives, and helped lead to the freedom of all enslaved Americans.
---

---
Christian Biographies for Kids | Christian History for Kids | Theology for Kids
"As for the saints in the land, they are the excellent ones, in whom is all my delight." - Psalm 16:3, ESV  
Christian History Matters for Our Kids.
History matters. Now, more than ever, we see how important it is for our children to know and understand history and the Bible.
Here's why:
God is the sovereign ruler of all things. It's important for our kids to see his hand in the history of nations and in the lives of both peasants and kings. 

Christian history is the story of our family history. Our kids get to see how people who love Jesus follow him.

Understanding history can help our kids learn historic and biblical theology. They learn what the Bible says and what that means for us. They also see when the study of Scripture has taken important turns that have changed the Church.

 
Reading Christian biographies and history can be a wonderful way for kids to think outside their own time and culture. God's Church spans centuries and includes people from every nation.

Christian biographies help kids consider their own faith, walk with Jesus, and the impact their witness may one day have on others--and on history. 
Elementary-aged kids need middle grade resources that are fun, a little sassy, and that teach valuable lessons. 
The Who What Why Series is the perfect resource to teach your kids about history, while helping them apply biblical truths to their lives today.