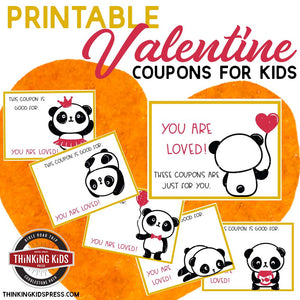 Valentine's Day Coupons
Regular price $3.00 $0.00 Sale
Show Your Love with free, printable Valentine's Day coupons for your kids. Plus, find Valentine coupons ideas!
---
This product is a printable PDF.
---
Your kids will love these free, printable Valentine coupons.
The Valentine coupon set comes with 11 coupons and a cover. Want more coupons? Just print more pages!
---

---
Valentine Coupon Ideas for Kids
For the coupons, write a specific offer on each coupon! Tell your kids what you're willing to do, along with limitations if applicable.
Here's a list of ideas to get you started with some fun Valentine coupon ideas for your kids.
Make cookies together
A day off school
One trip to the zoo
Your choice of read-aloud
One book--and a trip to the bookstore
Cuddle time with mom
Fishing with dad
A hike
A bike ride
A movie, hot chocolate, and popcorn
Your choice of dinner at home
Your choice of restaurant
A science experiment--you pick
A camping trip
Ice skating with a friend
---