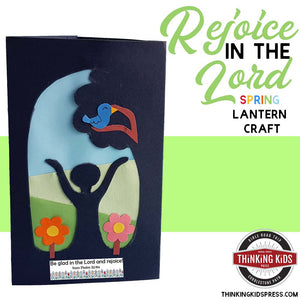 Rejoice in the Lord Spring Lantern Craft
Regular price $3.00 $0.00 Sale
Psalm 32:11a tells us to rejoice in the Lord, or be glad in the Lord! This fun paper lantern craft for kids is perfect for spring.
---
This product is a digital PDF.
---
Psalm 32 is a thanksgiving hymn (that's the type of psalm it is), and it reminds us that we are blessed to be in Christ. We were sick with sin and he healed us, saving us from eternal separation from God.
The correct response to our salvation is always and forever to praise and rejoice in the Lord.
Remind your kids to praise God for his saving grace with this fun lantern craft. Spring is the perfect time to talk about new life in Jesus.
---
Spring Lantern Craft
Check out this fun video of the paper lantern craft for kids!
---