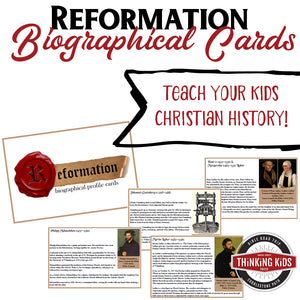 Reformation Biographical Profile Cards
October 31st, 2017 is the 500th anniversary of Reformation Day! Reformation Day is a remembrance and celebration of the day Martin Luther nailed the Ninety-Five Theses to the door of the Wittenberg Castle Church.
Though there had been earnest attempts to reform the Roman Catholic Church prior to Luther's Ninety-Five Theses, his document listing objections to the practice of selling plenary indulgences--a certificate claiming to absolve the purchaser's sins--kicked off the Protestant Reformation. That earned Martin Luther the title Father of the Reformation.
Reformation History for Kids
The Reformation was a movement that not only changed the course of the Christian Church--both Protestant and Catholic, it was also a movement that changed the course of the world. Our kids need to know and understand the history of the Reformation and its impact on their world today.
Martin Luther and the 95 Theses
I wrote When Lightning Struck!: The Story of Martin Luther so that families could read the exciting story of Martin Luther, the 95 Theses, and Reformation history. The book is a teen novel, but many families have shared it as a read aloud!
You can purchase a copy of When Lightning Struck! on Amazon. 
Reformation for Kids: 13 Biographical Cards
Use this set of 13 biographical profile cards to teach your kids about Martin Luther and the people important in his life and work! 
Each card contains a short biography of someone who influenced the life of the Father of the Reformation in some way.