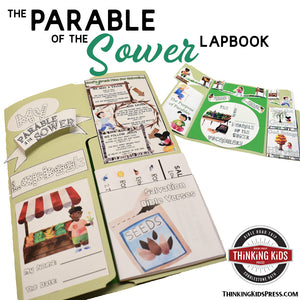 Parable of the Sower Lapbook
Teach your kids about the Parable of the Sower with this hands-on lapbook and Parable of the Sower Bible lesson for children.
---

---
The Parable of the Sower
The Bible is such an exciting adventure for our kids. We can make it even more fun with hands-on in-depth Bible lessons like lapbooks, copywork, and Bible memory verse cards!
The Parable of the Sower Bible Lesson Lapbook for children is an in-depth study your kids will never forget.
Take a look at this fun lapbook:


---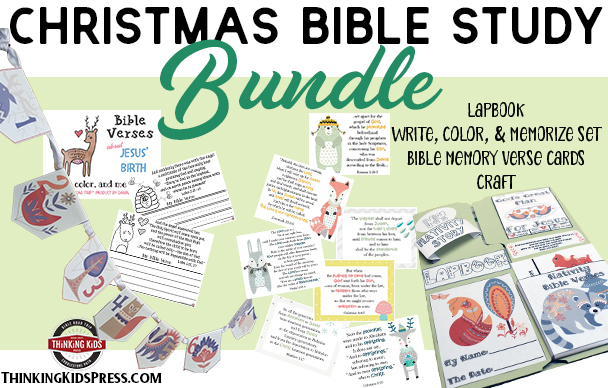 Teach your kids about Jesus with the Christmas Bible Study Bundle--and save!
---
---
The Parable of the Sower Lesson
The Parable of the Sower Bible Lesson Lapbook is a fun, hands-on study of the Bible for your child from the ages of 5-12. You and your child will study:
The gospel, with verses to share Jesus' Good News.
Each spot the seeds landed and what that means.
The reason Jesus used parables--and what parables are.
The meaning of the sower, seed, soil, and harvest.
What the Bible has to say about the seed of the gospel.
Scripture passages about the Lord of the harvest.
---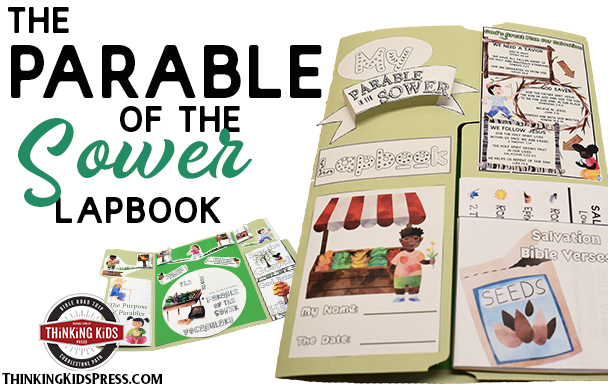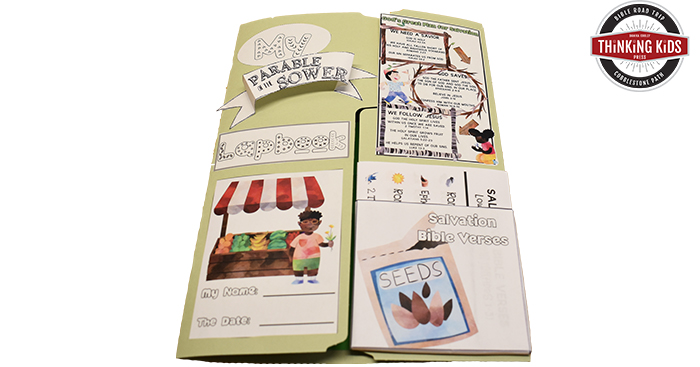 The Parable of the Sower Minibooks and Activities
Your child will find a number of fun minibooks and activities to cut, assemble, paste, color on, and write in. Depending on the age of your child, they may need a little help assembling the lapbook components. The minibooks and activities include:
3-D Banner
Lapbook Cover
Gospel Map
Bible Verse Pocket and Memory Cards
Layered Books
Sower Path and Matchbooks
Copywork Stack
Verse Frames
Vocabulary Wheel
Layered Books
Exploring the Bible in this hands-on way gives your child a permanent record of their study. They will remember what they've learned through a deep look at Jesus' teaching on the seed of the gospel and the salvation harvest.
---
You'll need a few supplies to put together your lapbook. You probably already have most of these. If not, it's worth investing in them as you will use them again and again with your kids.
A Colored File Folder
A Sheet of Cardstock in a Complimentary Color
Printer Paper
Scissors
A Glue Stick
A Stapler
A Metal Mini Brad
Colored Pens to Write With
Colored Pencils to Color With
---
The Parable of the SowerLapbook will give your child hours of thoughtful Bible study, with visuals they'll never forget.