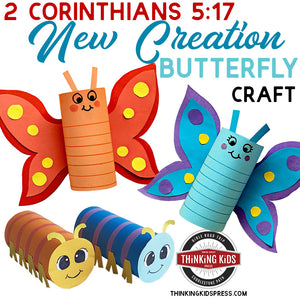 New Creation Butterfly Craft
Regular price $3.00 $0.00 Sale
When children repent and trust Jesus, they become a new creation in Christ. Celebrate spiritual transformation with a new creation butterfly craft.
---
This product is a digital PDF.
---
Children think in very concrete ways. When we talk to them about abstract, or spiritual, concepts, it can be really helpful to demonstrate those concepts in concrete, hands-on ways. This helps them remember what they've learned--and it helps them understand it.
One of the most important biblical concepts that we want our kids to understand is their transformation in Christ.
Once a child hears the gospel, believes in Jesus and confesses him with their mouth, and repents of their sin, they are saved eternally from their sin. This happens in Christ, through faith, by God's grace. What a tremendous gift from God!
That's not all, though. Christians become a brand new creation in Christ. God gives us a new heart, a new nature, and a new future with him.
Teach kids about becoming a new creature with this fun Bible lesson and craft.
---
New Creation Butterfly Craft
Check out this fun video of the butterfly  craft for kids!
---