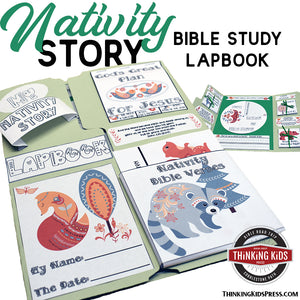 Nativity Story Lapbook
Teach your kids about the Christmas Nativity story with this Nativity lapbook & Bible study. Your kids will understand the importance of Jesus' birth.
---

---
Christmas Nativity Story Lapbook
The Christmas Nativity Story Lapbook is an in-depth study your kids will never forget! Take a look!
---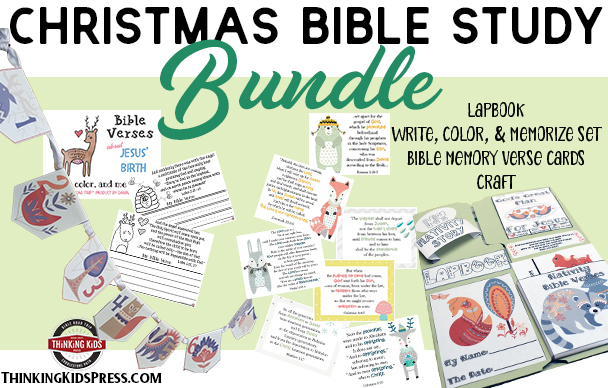 Teach your kids about Jesus with the Christmas Bible Study Bundle--and save!
---
Nativity Story Bible Study for Kids
The Christmas Nativity Story Lapbook is a fun, hands-on study of the Bible for your child from the ages of 5-12.
You and your child will study several aspects of the Nativity story:
God's Great Plan for Jesus
Nativity Bible Verses for Memorization
The People and Events of the Nativity
Definitions of Nativity and Incarnation
Four Names of Jesus from Isaiah 9:6-7
It's important that our kids understand the events and significance of the Incarnation of Christ, when God the Son became fully God and fully man. The Christmas story is a wonderful story with an amazing cast of characters, but--more than that--it is an important historical and theological event that changed the course of history, and it is worth teaching about. We can praise God for his love for us, shown through the birth of Jesus.
---

Nativity Story Minibooks and Activities
Your child will find a number of fun minibooks and activities to cut, assemble, paste, color on, and write in. Depending on the age of your child, they may need a little help assembling the lapbook components.
The minibooks and activities include:
3-D Banner
Lapbook Cover
Layered Book
Accordion Books
Bible Verse Pocket and Memory Cards
Bible Verse and Definition Frames
Wheel
Copywork
Exploring the Bible in this hands-on way gives your child a permanent record of their study. They will remember what they've learned through a deep look at the birth of Jesus.
---
Supplies You'll Need for Your Christmas Nativity Story Lapbook
You'll need a few supplies to put together your lapbook. You probably already have most of these. If not, it's worth investing in them as you will use them again and again with your kids.
A Colored File Folder
A Sheet of Cardstock in a Complimentary Color
Printer Paper
Scissors
A Glue Stick
Thin Ribbon
A Brad
A Stapler
Colored Pens to Write With
Colored Pencils to Color With
Your Bible
---
The Christmas Nativity Story Lapbook will give your child hours of thoughtful Bible study, with visuals they'll never forget.