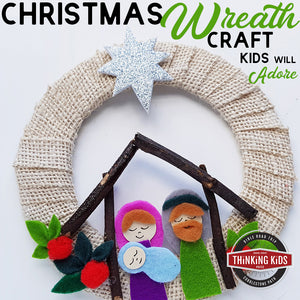 Nativity Scene Wreath Craft
Regular price $3.00 $0.00 Sale
This product is a digital PDF.
Are you looking for a fun way to help your kids think about the birth of Jesus that we read about in Luke 2:1-7?
This Christmas Nativity wreath is so cute--your kids will love making it, and they'll love pulling it out each year as you decorate. The supplies are inexpensive--you can even make these as gifts!
The Nativity scene wreath has a free template for you, so that you can cut out the felt figures.
Uncomfortable with the image of the baby Jesus? You can easily customize the wreath by substituting a manger for the baby, or by leaving the baby's face off (so the baby is facing Mary).
This cute Nativity wreath is sure to become a family heirloom.
---

---
Christmas Wreath Craft for Kids
Check out this quick video of the Christmas wreath craft for kids: