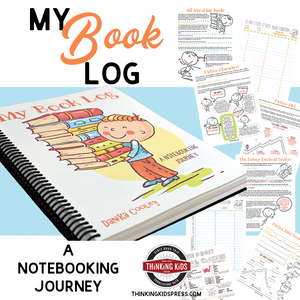 My Book Log: A Notebooking Journey
Regular price $15.00 Sale
This product is a digital download.
It's important not only that your children understand the basic structures of the library, fiction, nonfiction, and the books they read, but that they can learn to read with wisdom and discernment as well.
In My Book Log, we spend some time addressing theme and author worldview, and how the two relate. You'll want to read through the instructional parts with your kids, then help them apply what they've learned in the notebooking parts of their book log.
Your kids will explore:
The Library
The Dewey Decimal System
Fiction Structure
Non-Fiction Structure
How to Evaluate Fiction
How to Evaluate Nonfiction
Your kids will keep track of:
The Books They Read
Important Book Details
Their Impressions
Books They've Borrowed
Books They've Loaned
Books They Want to Read
---
My Book Log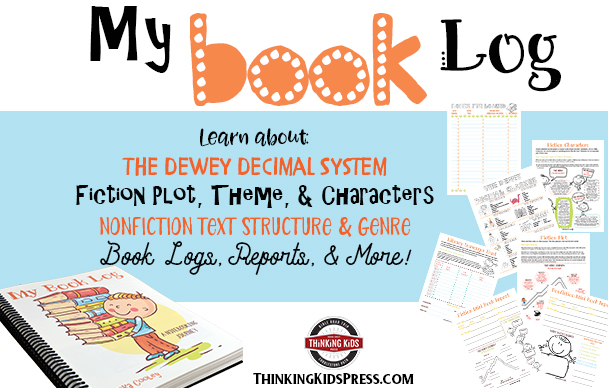 The My Book Log: A Notebooking Journey will allow your kids to learn everything they need to know to really understand reading fiction and nonfiction during their elementary years. Not only that, the notebooking portion of their book log gives them a way to practice what they've learned over and over again. 
The My Book Log has some cool aspects to it:
Explanations, charts, and diagrams

The Dewey Decimal System
The Dewey Decimal Classes
Fiction Book Genres
Nonfiction Book Genres
Fiction Characters
Fiction Plot
Nonfiction Text Structures
Nonfiction Beginnings
Theme
Author Worldview

Interactive Fun

A Library Scavenger Hunt
Book Plates for Your Kids
Text and Pictures to Color

Book Logs Galore

Books I've Borrowed
Books I've Loaned
Books I Want to Read
Books I've Read
Books I've Loaned

Mini Book Reports

Fiction Book Reports
Nonfiction Book Reports
Easy-to-Fill in Reports that Reinforce What Your Child Has Learned

A Great Base for Future Literature Study!
170 pages
Household license

Reprint for all of your children
Reprint every year

Classroom license available
---
Printing Your My Book Log
Sometimes readers are concerned about using colored ink. If this is the case for you, there should be a setting on your printer that allows you to print in black and white. Printing in grayscale will still use some color, but it will come out prettier than black and white.
Print the My Book Log duplexed (double-sided) and have them flip on the long side.
I recommend printing the My Book Log on white cardstock so the pages will be more durable with no bleed-through.
---
All About the Library
Your kids can learn to explore the library with ease once they understand the Dewey Decimal System.
Your kids will explore:
The Dewey Decimal System
The 10 Dewey Decimal
System Classes
Your kids will keep track of:
A Library Scavenger Hunt
Books They've Borrowed
---
All About Fiction
A writer can spend his or her whole life studying fiction. Your children don't need to study fiction at quite such an in-depth level to begin appreciating and learning from story. There are, however, some basic fiction principles your child can learn that will allow them to read fiction more discerningly.
Your kids will explore:
What Fiction Is
What a Genre Is
20 Fiction Book Genres
4 Types of Characters
Fiction Plot
Story Theme
Author Worldview
---
All About Nonfiction
Just like fiction, nonfiction follows specific conventions and principles. It will benefit your child greatly to be able to identify and understand the nonfiction structure and its purpose.
Your kids will explore:
What Nonfiction Is
What a Nonfiction Genre Is
10 Nonfiction Genres
2 Nonfiction Opening Structures
5 Nonfiction Text Structures
Nonfiction Theme
Author Worldview
All About My Books
Now that your child has studied the basics of the library, fiction, and nonfiction, they'll get down the business of keeping several forms of book logs.
Your kids will keep track of:
Books They Want to Read

By Fiction Genre & Nonfiction Subject

Books They've Read
Books They've Loaned

For Books That Must Be Shared With Friends

Mini Fiction Book Reports

To Practice What They've Learned of Fiction Analysis
Mini Nonfiction Book Reports
To Practice What They've Learned of Nonfiction Analysis
---
Book Plates
For fun, your child will also receive 12 printable book plates. They can cut these out and paste them into the cover of their own books for a sense of ownership.

Keeping a book log has been a lot of fun for our family over the years. My boys have learned to be discerning, educated readers. I'm so excited for your family as you begin on your own book journey!