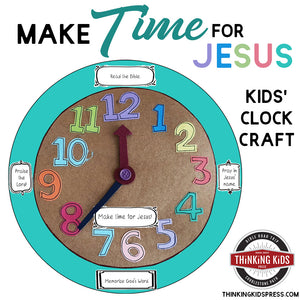 Make Time for Jesus | Kids' Clock Craft
Regular price $3.00 $0.00 Sale
This fun Make Time for Jesus craft helps teach kids about spiritual disciplines. The kids' clock craft will help children consider their day!
---
This product is a digital PDF.
---
When we love Jesus, our lives are devoted to him. In a sense, all time is his time.
Even so, God in his wisdom allows us to be active participants in our own progressive sanctification. That means, we each make daily choices about how we spend time throughout the day.
Make Time for Jesus
Scripture addresses our use of time in a number of places. Consider what Paul wrote to the church at Ephesus:
Look carefully then how you walk, not as unwise but as wise, making the best use of the time, because the days are evil." ~ Ephesians 5:15-16, ESV
We are to consider how we spend time (how we walk), be wise, and make the best use of our time.
This fun clock craft is a great way to remind kids to make time for Jesus throughout each day!
---
Make Time for Jesus Kids' Clock Craft
Check out this quick video showing you how to construct your kids' clock craft:
---
---