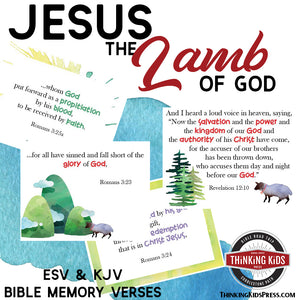 Jesus, the Lamb of God | Bible Memory Verse Card Set
Teach your kids about Jesus, the Lamb of God with 40 cute Bible Verses for Children printable Bible memory verse cards.
---
This product is a digital PDF download.
---
Jesus, the Lamb of God, Bible Verses for Children
Children love to learn, and childhood and young adulthood are the perfect time for memorization of Bible verses for children and teens--their brains are primed for it.
You can use your Thinking Kids Press Bible memory cards in a few ways:
Work through each card with your child until they commit the verses to memory.
Keep the cards in a box on your dining table. Read and discuss one each meal.
During your family prayer time, pray through the verses a few at a time.
Use the cards to discuss biblical fruit during teachable moments.
Have your child copy the verse from one card each day.
Paste them to the bathroom mirror or frame them and make a collage.
---

---
Bible Memory Verse Card Set Divider
Your family can decorate and use a Bible memory card box just like we did in the
Family Prayer Box Project
. There are a number of Bible memory card sets available in the store at 
ThinkingKidsPress.com
. You'll find a Bible memory verse card divider included in this set so that you can keep your sets separated, along with a copyright card.
---
Jesus, the Lamb of God
The Bible Verses about Jesus, the Lamb of God, will teach your kids about the doctrine of propitiation--that Jesus atoned for the sins of believers--through the biblical teachings about Jesus' sacrifice as the Lamb of God.
You will find cards with verses that explain:
We are sinners and the penalty of sin is death
God's Law helped us understand forgiveness through a blameless blood sacrifice
God gave us Jesus to atone for our sins
Jesus died in our place
Salvation is a free gift from God
Jesus'sacrifice covers our sins completely
The Lamb of God will rule forever
---
---
Bible Verses for Children Memory Cards
Some of the Bible memory verses are longer passages that are split between several cards, and some are short and sweet. These cards are put together to aid you in your family discipleship.
Be creative about how you use them in your family as you teach your kids the word of God.
---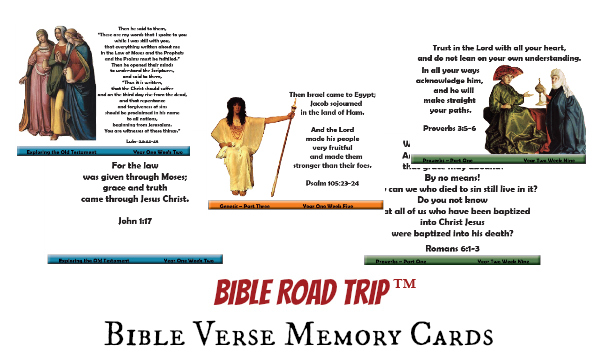 Help your kids memorize verses as they read through the Bible with Bible Road Trip™ Bible Verse memory cards!
---
Make Bible memorization fun for your children with lots of joyful encouragement! Hiding God's Word in their hearts will benefit your children for life.