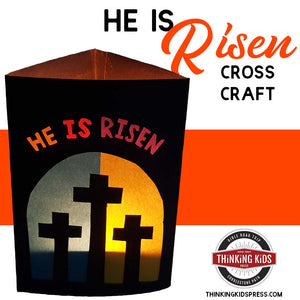 He Is Risen Cross Lamp Craft
Regular price $3.00 $0.00 Sale
He Is Risen! Your kids will love this stained glass cross craft. The cross lamp is a fun way to celebrate the fact Christ is risen.
---
This product is a digital PDF.
---
As believers, the Resurrection of Jesus Christ is truly one of the most exciting stories in the Bible. Not only did Jesus, the Son of God and God the Son, die in our place--taking the punishment for our sins, he also rose from the dead.
Jesus conquered both sin and death. He is risen!
Explain the gospel with this free poster and verse cards.
Help your kids consider the miracle that Christ is risen as they make this fun stained glass cross craft.
---
Stained Glass Cross Craft
Check out this fun video of the cross lamp craft!
---