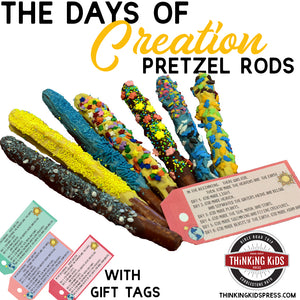 Days of Creation Pretzel Rods
Regular price $3.00 $0.00 Sale
Make these fun chocolate dipped pretzel rods with your kids to help them learn about the Days of Creation in a fun, hands-on way!
---
The Days of Creation
This fun Bible snack is a great way for your kids to learn about the days of Creation.
In addition to digital instructions, these printable tags will help you speak easily with your children about the Creation week.
Each sequencing tag talks about the 6 days of Creation (including Day 0--before Creation began):
In the Beginning: There was God. Then, God made the heavens and the earth.
Day 1: God made light.
Day 2: God made heaven, and separated the waters above and below.
Day 3: God made plants.
Day 4: God made the sun, moon, and stars.
Day 5: God made swimming and flying creatures.
Day 6: God made beasts of the earth. God made Adam and Eve.
---

---
Chocolate Covered Pretzel Rods
Check out this fun video I made of the chocolate covered pretzel rods, decorated for each of the 6 days of Creation!
---
6 Days of Creation for Kids Pretzel Rods with Sequence Tags Printable
Sign up for the Thinking Kids newsletter, and you'll receive encouragement, free gifts, and exclusive offers. Use this form and we'll send you a coupon code to purchase the Days of Creation pretzel rod instructions and sequencing tags FREE.
---
Get the Creation the Bible Study Bundle and save!
---
These cute Bible memory verse cards will teach your kids about the Creator!
---
---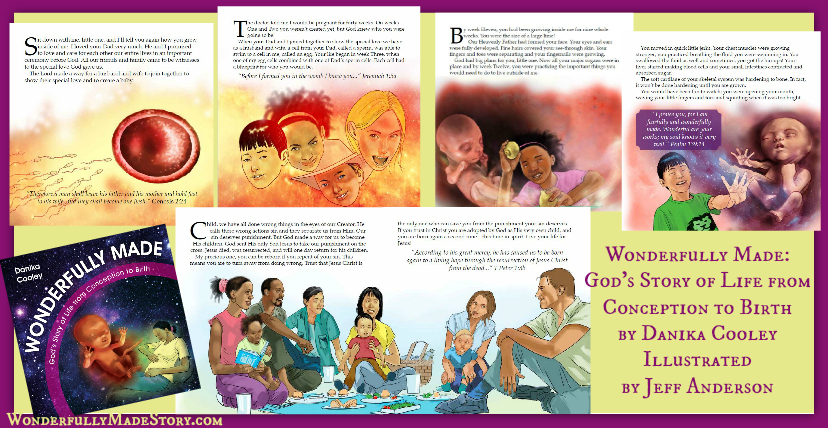 Take your 5-11 year old on a journey through science, Scripture, and 40-weeks of developing life in the womb as they learn about how our Creator God lovingly formed them. They are indeed wonderfully made!
---