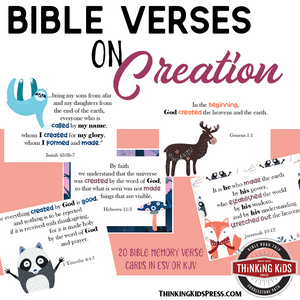 Creation Bible Verse Card Set
This is a digital PDF download.
---
Teach your kids 20 Creation Bible verses with this super cute memory verse set for your children, all about the Creator!
---
The Creator
When we teach the kids about Creation, we tend to focus on the days of Creation. We want them, too, to learn about the Creator, Father God through Jesus the Son.
It's important our kids know important things about the Creator like:
God created all things.
God created man in his image, as male and female people.
Everything God made was good.
God the Father created all things through Jesus, God the Son.
Jesus laid the foundations of the earth.
God created the earth out of nothing through his word.
We were made by God, and we exist for God.
Only God could create the world.
We are made for God's glory.
God created each of us specifically and individually.
Teach your kids about the Creator with 20 Bible verses they can hide in their hearts. Help them understand who created the heavens and the earth--and your child!
---

---
Bible Verses on Creation
Children love to learn, and childhood and young adulthood are the perfect time for memorization of Bible verses for children and teens--their brains are primed for it. The Bible Verses on Creation memory card set will help your kids commit important truths about our Creator God to memory.
Bible verses in the Bible Verses on Creation memory card set (available in ESV or KJV):
Genesis 1:1
Genesis 1:27
Genesis 1:31a
Hebrews 1:1-2
Hebrews 1:10
Hebrews 11:3
1 Corinthians 8:6
John 1:1-3
Colossians 1:16-17
Psalm 33:8-9
Isaiah 45:18
Isaiah 43:6b-7
Psalm 111:2-3
Jeremiah 10:12
Revelation 4:11
1 Timothy 4:4-5
Job 33:4
Acts 17:25b-26a
Psalm 139:13-16
---
---
Ways to Use Your Memory Verse Cards
You can use your Thinking Kids Press Bible memory cards in a few ways:
Work through each card with your child until they commit the verses to memory.
Keep the cards in a box on your dining table. Read and discuss one each meal.
During your family prayer time, pray through the verses a few at a time.
Use the cards to discuss biblical fruit during teachable moments.
Have your child copy the verse from one card each day.
Paste them to the bathroom mirror or frame them and make a collage.
Look up the Bible passages in context and discuss what the verses mean.
---

Help your kids memorize verses as they read through the Bible with Bible Road Trip™ Bible Verse memory cards!
---
Print Your Bible Memory Verse Card Set
To print your set, you'll want to print with a landscape page orientation. The memory verse cards should be printed single-sided on cardstock. You can laminate them and store them on a book ring, or print them on cardstock and store them in a special box.
Make Bible memorization fun for your children with lots of joyful encouragement! Hiding God's Word in their hearts will benefit your children for life.
---
Get the Creation the Bible Study Bundle and save!
---