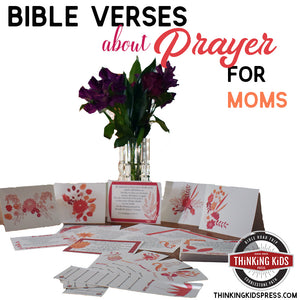 Bible Verses about Prayer for Moms Set
Bible Verses about Prayer for Moms
Pray biblically with Bible verses about prayer. You can use the verses in this set as Bible memory verse cards, or you can pray the Bible using these verses. In the set you'll find:
60 Bible verse cards about prayer
4 "I'm Praying for You" Encouragement Cards
5 Prayer List Bookmarks
Prayer List Bookmarks
There are 5 prayer list bookmarks, each with room for 7 names. The bookmarks have a pretty graphic and a prayer list on one side, and a beautiful coordinating floral pattern on the other side. These bookmarks are a great reminder to pray for others throughout the day. Here are a few ways to use them:
Fill out all 5 bookmarks with a different set of names and rotate the bookmarks over 5 weeks, praying for new people each week.
Fill out all 5 bookmarks and place them in your Bible, journal, daytimer, bedside book, and by your toothbrush to remind you to pray for different people throughout the day.
At a women's group, print a stack of bookmarks, and have the ladies commit to pray for each other in groups of 8. They can record the names of their prayer partners.
Use the bookmarks for prayer requests you often miss, like the senate or your church elders, and store the bookmarks in your Bible to help you remember to pray for institutions and those in leadership.
Prayer Encouragement Notecards
The Bible Verses about Prayer set contains 4 prayer encouragement notecards. Each has a pretty floral graphic on the front. The inside of each says, "I'm praying for you today." Praying for a friend is a wonderful way to love them. It's also encouraging to hear that we're being prayed for by others. Use these cards to let someone know you're praying. These prayer notecards are a great way to edify others. Here are a few ways to use them:
When the Lord puts someone on your heart to pray for, write them an encouraging note and drop it in the mail, letting them know you're praying.
Let your friend know what you're praying, encouraging her to seek the Lord in all she does.
Write a helpful verse or two in the card.
Attach the card to a small gift, like chocolate or a bouquet of flowers, to remind a suffering friend she's being prayed for.
Bible Verses about Prayer Memory / Prayer Cards
The Bible Verses about Prayer set contains 60 cards with prayer verses from throughout Scripture. While these verse are by no means a comprehensive look at prayer, they are valuable tools to use while praying. Ways to use the Bible Verses about Prayer card set:
Read a Scripture and use it to pray to the Lord.

For example: Psalm 6:9 (ESV) says: "The Lord has heard my plea; the Lord accepts my prayer." You can read the card, then pray something like, "Lord, I know you hear my prayers and you accept them. Help me pray in a way that is pleasing and glorifying to you."

Memorize the verses about prayer.
Read one to your children each day before praying and discuss what it means.
Use the cards as bookmarks and read the verses as you open your Bible or book.
Print the cards as gifts for your prayer group.
Frame and display the cards.
Frame a card and give it as a gift to a prayer partner.
Put the cards where you'll see them throughout the day. Read the verse when you see a card... and then pray!
How to Print the Bible Verses about Prayer Set for Moms
Download your PDF file and save it to your computer.
Print these cards on duplex (back-to-back or double-sided). You'll want to flip on the SHORT edge for these. You should be able to change the settings for this in the Properties tab of your printer box once you download and tell your computer to print.
I recommend printing on white cardstock so the cards will be more durable and the back won't show through on the front.