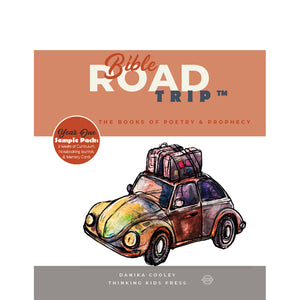 Bible Road Trip™ Year Two SAMPLE PACK
Regular price $10.00 $0.00 Sale
This product is a digital PDF download.
Note:

 

This is the 3rd edition.
---
Bible Road Trip™ is a three-year Bible survey curriculum for preschool through high school. That means that if you start in preschool, you can take your child all the way through the Bible five times by the time he or she graduates from high school.
Bible Road Trip™ Year Two, 3rd edition, covers the books of poetry and prophecy, from Job to Malachi.
Bible Road Trip™ is written for five levels of study, so you can study all together as a family at deepening levels. Your high school student can study more of the Bible, and at a deeper level of understanding, than your preschooler can. But with Bible Road Trip™ your family can still explore and discuss your studies all together as a group.
To help you get the most out of your studies, Bible Road Trip™ has an array of coordinating weekly activities:
Researching the section of the Bible you're studying
Reading and discussing the Bible
Memorizing Scripture
Notebooking about your studies
Praying for the nations
Suggestions for further study
Crafting about what you've learned
For your older students: A project to share what they've learned
Bible Road Trip™ also has some great tools you can use along with it, such as:
Notebooking Journals for grades 1-9. Want a structured notebooking journal for high school? Don't hesitate to use the Dialectic journal (grades 7-9).
Bible Memory Card Sets for all five levels of study, preschool to high school. These are available in both ESV and KJV.
In this Bible Road Trip™ Year Two Sample Pack, you'll find:
The Bible Road Trip™ Parent / Teacher Guide.
The first three weeks of the curriculum for all five learning levels. Week Three is where we really dive into the Bible and begin to our systematic study. Week Three will give you a good feel for the rest of the curriculum.
The first three weeks of the Bible Memory Card sets for all five levels, in ESV and KJV.
The first three weeks of each of the three leveled Notebooking Journals.