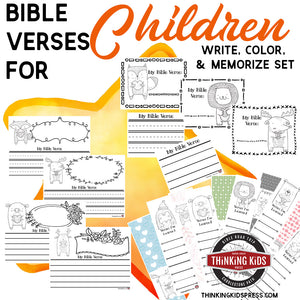 Bible Verses for Children Write, Color, and Memorize Set
Write, Color, and Memorize Bible Verses for Children
Children love to learn, and the elementary years are the perfect time for memorization--their brains are primed for it.
This write, color, and memorize set will help your kids memorize new verses, practice handwriting, and create a record of the verses they've worked on.
---
---
Verses I've Memorized Bookmarks
You'll find a set of five "Verses I've Memorized" bookmarks. You can print these
double-sided for your kids to color. As they learn each verse or passage they can write the reference on their bookmark.
These serve two purposes: they commemorate the memorization of a new verse, and they also provide a list of verses to practice periodically. The bookmarks are perfect for marking your child's place in their Bible or their favorite book.
Bible Memory Verse Cards
The Bible Memory Verse Cards are available in 8 designs, with two different line widths available.
Your child can write the reference for the verse they will be learning on the front of a card and color in the animal. On the back of the card, your child can write the memory verse. If your child needs more room, they can use two cards.
Bible Verse Copywork Pages
Copywork is a great way for your children to meditate on Scripture, memorize verses, and practice good handwriting.
There are 5 different copywork pages with two line widths available. Your child can work on copying a verse until they've learned the verse, and still have something new to color each day.
You will write the verse in the frame, and your child will copy the verse on the lines below.


Make Bible memorization fun for your children with lots of joyful encouragement!
Hiding God's Word in their hearts will benefit your children for life.