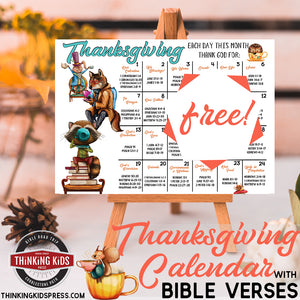 Thanksgiving Bible Verses Calendar
The Thanksgiving Calendar is a PDF download.
---

---
Thanksgiving Bible Verses
Our children aren't just born knowing what they should be thankful for and why. Neither are we. In fact, the Bible outlines for us many things we can be grateful for, and it tells us to thank God for his many blessings and who he is.
With the Thanksgiving Calendar, your kids will spend 24 days focusing on a new thing to thank God for each day. There are Bible verses for thanksgiving and praise, and Bible verses that speak of the blessing that we can thank God for.
They'll thank the Lord for:
Our Salvation
Creation
God's Mighty Deeds
The Holy Spirit
Help in Temptation
And more!
---
Grab the 12-month Bible Verse Calendar and get started on fun, themed devotions for your kids. It's a fun way to teach theology!
---
Thanksgiving Bible Verse Calendar
God has given us so much to be thankful for. We can teach our kids to love the Lord and to thank him for the blessings he has given us by leading them to his Word every day. You'll find that the Thanksgiving Calendar only has 24 days on it. That is to give you a day off each week, when you attend worship and rest in God's goodness.