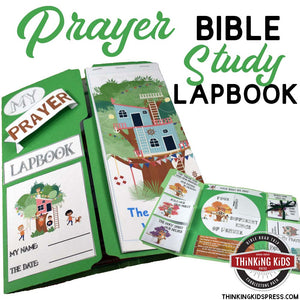 Prayer Bible Study for Kids Lapbook
This product is a digital download.
Prayer Bible Study for Kids Lapbook
Teach your kids about the armor of God in a fun, hands-on way that your children will love! This lapbook is part Bible study, part Bible craft, part notebooking, and it's perfect for families who want to go deeper into what the Bible says about prayer with elementary age children from 5-12.
You'll want to do the Prayer Bible study for kids over a period of days or a couple of weeks. Check out this fun video that shows how the lapbook is put together! 
---
---
Prayer Bible Study for Kids
The Prayer Lapbook is a fun, hands-on Bible study for your child from the ages of 5-12. You and your child will study a number of Scripture passages:
Luke 11:1-13
Psalm 141:1-2
Revelation 5:6-10
2 Chronicles 7:13-14
Matthew 6:5-13
1 Samuel 2:1-10
Psalm 17:6
John 14:6-7
1 Timothy 2:5-6
Hebrews 7:22-28
Hebrews 9:24
Romans 8:26-30
Jude 20-21
Ephesians 6:18
Galatians 4:4-6
2 Corinthians 12:1-10
Romans 5:1-5
Your child will learn what the Bible says about why we pray, how God participates in our prayers, the different types of prayers, and how Scripture tells us to respond when God says no to our prayers.
---
Prayer Bible Study Minibooks and Activities
Your child will find a number of fun minibooks and activities to cut, assemble, paste, color on, and write in. Depending on the age of your child, they may need a little help assembling the lapbook components. The minibooks and activities include:
3-D Banner
Copywork Stack
Banners
T-Books
Wheel
Accordion Book
Bible Memory Verse Cards and Pocket
Exploring the Bible in this hands-on way gives your child a permanent record of their study. They will remember what they've learned through a deep look at what Scripture says about prayer and our relationship with God.
---
Supplies You'll Need for Your Prayer Lapbook
You'll need a few supplies to put together your lapbook. You probably already have most of these. If not, it's worth investing in them as you will use them again and again with your kids.
A Colored File Folder
A Sheet of Cardstock in a Complimentary Color
Scissors
A Glue Stick
Printer Paper
Thin Ribbon
A Metal Brad
Your Bible
Colored Pens to Write and Color With
---
How to Print and Use the Prayer  Lapbook
To create the base of your lapbook, place your file folder on a table and fold both sides inward toward the creased spine of the folder. Once the outer edges meet, crease your file folder. This will give you a book that opens in the middle.
You will still have a fold in the middle of your book, so I like to glue a piece of cardstock into the middle section of the book to create a thick center that won't bend.
You'll want to print the My Prayer Bible Study for Kids Lapbook single-sided on plain printer paper using color ink. In your lapbook pages, you will find step-by-step instructions on each minibook and activity, explaining how to assemble each.
You can watch a quick tutorial for the Prayer lapbook above, at the beginning of this post.
The Prayer Bible Study for Kids Lapbook will give your child hours of thoughtful Bible study, with visuals they'll never forget.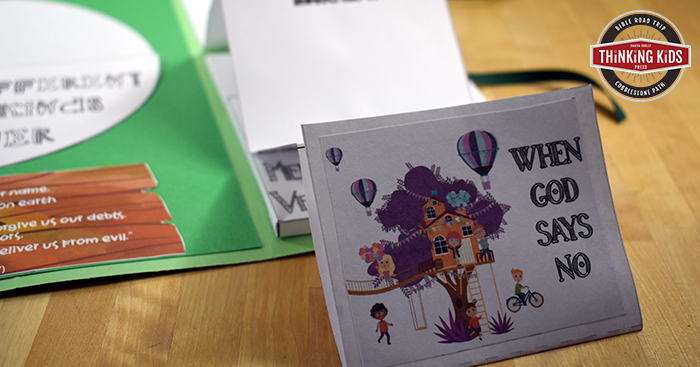 ---