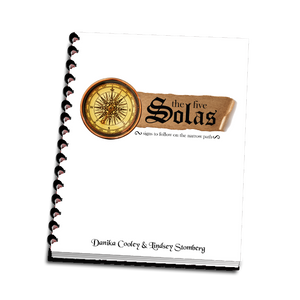 The 5 Solas: Signs to Follow on the Narrow Path
Regular price $14.99 Sale
This product is a digital PDF download.
The Five Solas
The Five Solas are slogans that were popularized by the Reformers during the reformation of the Church (1350-1648). These slogans are based on biblical truths and sound doctrine. Knowing and understanding the Five Solas is important for your children--it will help read and apply Scripture to their lives.
The Five Solas: Signs to Follow on the Narrow Path Family Bible Study
This family Bible study will help you explore Scripture in an engaging manner with seven days of family study. Each day includes:
An overview of a Sola or Scriptural concept
A Bible passage to study with discussion questions
Additional passages to read to better understand the intent of each Sola
A structured notebooking page
A family activity
A craft
Seven Days of Study
Your family will study the Five Solas together for seven days. Need more time to explore? You can always extend each day's study to several days or even a week!
Day One: Lost in the Woods: How the Solas came to be and what Sola means
Day Two: Sound Doctrine
Day Three: Sola Scriptura
Day Four: Sola Fide
Day Five: Sola Gratia
Day Six: Solus Christus
Day Seven: Soli Deo Gloria
Additional Activity Pages
You'll find fabulous additional printable activities in your The 5 Solas family Bible study.
Printable Cards to be used as flash cards, memory cards, or a matching game
Seven coloring pages for older kids and adults