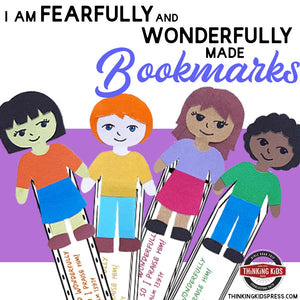 Wonderfully Made Bookmark Craft
Regular price $3.00 $0.00 Sale
This craft is a digital product.
---
This fun craft with printable bookmarks will help your kids learn that they are fearfully and wonderfully made by God!
---

---
Wonderfully Made Bookmark Craft
Check out this fun video of the I am Fearfully and Wonderfully Made bookmark craft!
---
I am Fearfully and Wonderfully Made Bookmarks Craft Supply List
You'll need a few supplies to make your wonderfully made bookmark craft:
---
A Resource to Help Teach Kids About Life in the Womb
Your kids will love learning about life inside the womb with Wonderfully Made: God's Story of Life from Conception to Birth, published by Christian Focus 4 Kids.
Wonderfully Made is a science- and Scripture-filled picture book for kids ages 5-11.
The book is told from the perspective of a mother telling her child about his or her development in the womb week-by-week. In fact, Wonderfully Made is written to help parents meet the theological, scientific, and relational purposes of teaching kids about life in the womb.
You can also learn more about Wonderfully Made over at the book page.
Head over to the Thinking Kids Press store for your free Wonderfully Made posters, Bible memory verse cards, and lapbook! They're a great companion to the book Wonderfully Made, and the perfect way to teach your kids about life in the womb!

You can purchase Wonderfully Made now: Autographed from Danika Cooley: Wonderfully Made: God's story of life from conception to birth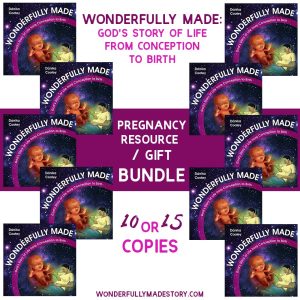 Grab a Pregnancy Resource / Gift Bundle of 10 or 15 copies and save!