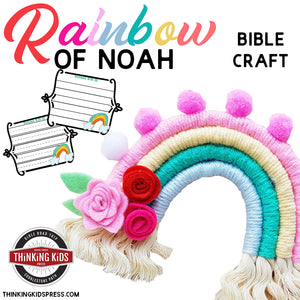 Rainbow of Noah Craft and Bible Verse Cards
Regular price $3.00 $0.00 Sale
"

I establish my covenant with you, that never again shall all flesh be cut off by the waters of the flood, and never again shall there be a flood to destroy the earth." And God said, "This is the sign of the covenant that I make between me and you and every living creature that is with you, for all future generations:

I have set my bow in the cloud, and it shall be a sign of the covenant between me and the earth.

" -

Genesis 9:11-13, ESV
The rainbow of Noah in the Bible was a sign of the promise (the Noahic Covenant) that God made to Noah following the global flood that killed all creatures outside of the family of Noah and the animals on the ark.
It must have been such a relief to Noah, his wife, their three sons and their wives to hear God's promise that he would never again flood the earth.
Rainbow of Noah
God's promise was to all generations. 
Why does the rainbow mean so much to us today?
The flood and rainbow symbolize to us both the wrath of God poured out for our sin against him, as well as the grace and mercy of God shown in his plan for our salvation through Jesus Christ. Knowing the Lord has offered eternal forgiveness to all who believe on Jesus, repent of their sins, and confess Jesus with their mouth makes the present trials and tribulations bearable.
Consider the words of Paul in Romans 8:18, ESV:
For I consider that the sufferings of this present time are not worth comparing with the glory that is to be revealed to us.
How wonderful is that? (SO wonderful!)
Grab your free Gospel of Jesus poster and cards here to help your kids internalize what Scripture says about the Good News of Jesus Christ!
That hope in Christ is something we want our kids to think about every time they see the rainbow as well.
This fun craft with a verse card will help your kids remember the truth of the gospel and God's promise to Noah and to all generations every time they see a rainbow.
---

---
Rainbow of Noah Bible Craft
Check out this fun video I made of the rainbow of Noah Bible craft!
---