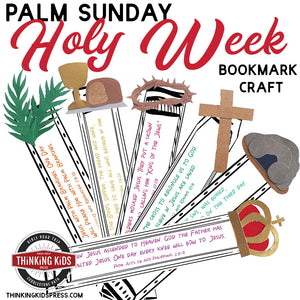 Palm Sunday Holy Week Bookmark Craft
Regular price $3.00 $0.00 Sale
Palm Sunday Bookmarks
As you create each bookmark, read the verses listed with your kids and discuss what they mean. Each bookmark states:
The crowd Greeted Jesus with Palm Branches. One Day all Jesus' People Will Praise Him with Palm Branches. From John 12:12-13 and Revelation 7:9-10
Jesus gave us the Lord's Supper, the bread and wine, to remember that he died to save all who believe in him. From Matthew 26:29
The Roman soldiers mocked Jesus. They put a crown of thorns on his head, calling him "King of the Jews." From Matthew 27:29
Jesus died on the cross to reconcile us to God. Those who believe in Jesus are saved. From Ephesians 2:16 and Romans 10:9
Jesus died for our sins, was buried, and was raised from the dead on the third day. From 1 Corinthians 15:3-4
Risen Jesus ascended to Heaven. God the Father has exalted Jesus. One day every knee will bow to Jesus. From Acts 1:9 and Philippians 2:8-11
You can talk to your kids about Christ's great gift of salvation as you put together this bookmark craft!
---

---
Easter Bookmark Craft for Kids
Check out this fun video of the Palm Sunday bookmarks!
---