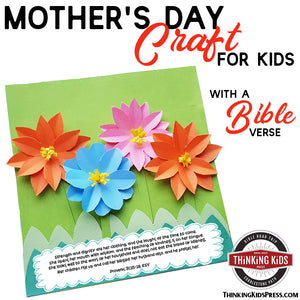 Mother's Day Bible Craft
Regular price $3.00 $0.00 Sale
This is a digital download.
Looking for a mother's day Bible craft? This fun Mother's day craft your kids will want to make comes with printable templates and a verse from Proverbs 31.
---
Strength and dignity are her clothing, and she laughs at the time to come.
She opens her mouth with wisdom, and the teaching of kindness is on her tongue. She looks well to the ways of her household and does not eat the bread of idleness. Her children rise up and call her blessed; her husband also, and he praises her... Proverbs 31:25-28, ESV
---

---
Mother's Day Craft for Kids
Make a fun Mother's Day Bible craft with your kids... even if it's for yourself. Kids love to give gifts, and this is an easy and creative way for them to express their love for you. This Mother's Day craft is also a fun project for kids to work on together at church or co-op. The printable verse is available in ESV or KJV, and can be glued onto the card.
---
Mother's Day Bible Craft Supplies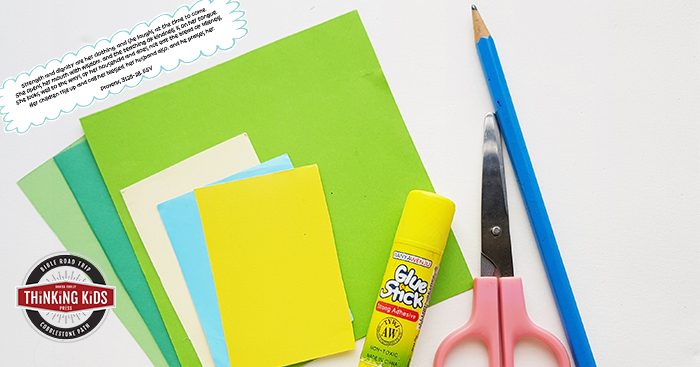 You'll need a few supplies to make your Mother's Day craft.
Colored Cardstock in Greens, Flower Colors, and a Background Color
A Pencil
A Glue Stick
Scissors
---


Just cut out the Bible verse in the version you prefer and glue it to your Mother's Day card. You can glue it to the bottom or the top.
---

---
Teach Your Kids the Bible with Bible Road Trip™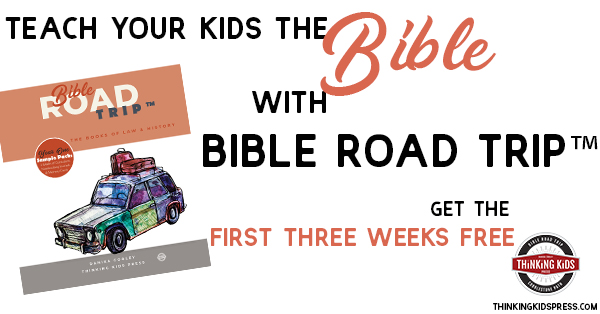 Bible Road Trip™ is a three-year Bible survey curriculum. Take your family through the Bible five times from preschool to high school.
To help you get the most out of your studies, Bible Road Trip™ has an array of coordinating weekly activities:
Researching the section of the Bible you're studying
Reading and discussing the Bible
Memorizing Scripture
Notebooking about your studies
Praying for the nations
Suggestions for further study
Crafting about what you've learned
For your older students: A project to share what they've learned
Bible Road Trip™ also has some great tools you can use along with it, such as:

Notebooking Journals for grades 1-9. Want a structured notebooking journal for high school? Don't hesitate to use the Dialectic journal (grades 7-9).
Bible Memory Card Sets for all five levels of study, preschool to high school. These are available in both ESV and KJV.
Grab your Bible Road Trip™ Year One Sample Pack. You'll get:
The Bible Road Trip™ Parent / Teacher Guide.
The first three weeks of the curriculum for all five learning levels. Week Three is where we really dive into the Bible and begin to our systematic study. Week Three will give you a good feel for the rest of the curriculum.
The first three weeks of the Bible Memory Card sets for all five levels, in ESV and KJV.
The first three weeks of each of the three leveled Notebooking Journals.
Join the Thinking Kids newsletter, and get encouragement, free gifts, exclusive offers, and this Sample Pack for FREE:
---