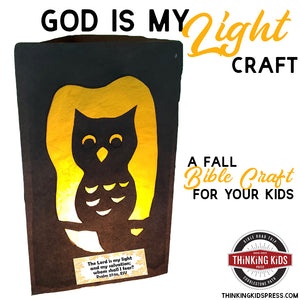 God is My Light Fall Bible Craft
Regular price $3.00 $0.00 Sale
This product is a PDF download. It comes with both an ESV and KJV Bible verse frame.
Teach Your Kids: Teach Your Kids: "God is My Light and My Salvation"
Fall, especially, can be a time of darkness and concern for children. There are some scary decorations floating around, and they may wonder if they're truly safe. This fun luminary craft highlights Psalm 27:1a, which (in both the ESV and the KJV) says:
The Lord is my light and my salvation; whom shall I fear?
Not only is this craft a fun nightlight (use battery-operated tea light candles), it is also a super cute decoration to set out while you're handing out candy!
Why is there an owl our God is my light craft? Well, owls traditionally stand for wisdom, and our wisdom comes from God's Word.
---

---
Teaching Points for Psalm 27:1a
There are a number of things you'll want to emphasize for your kids as you work on their Bible craft with them, like:
Wisdom is found in God's Word. Psalm 111:10 (ESV) says: "The fear of the 

Lord

 is the beginning of wisdom; all those who practice it have a good understanding. His praise endures forever!"
Psalms is a book of wisdom. God inspired the writing of the psalms through a number of authors so we can learn to be wise. (Wise like an owl!)
God is our light. 1 John 1:5 (ESV) tells us: "This is the message we have heard from him and proclaim to you, that God is light, and in him is no darkness at all."
God shines light on us. Psalm 118:27 (ESV) says: "The 

Lord

is God,

and he has made his light to shine upon us."

God lights our path. Psalm 119:105 (ESV) teaches: "

Your word is a lamp to my feet

and a light to my path."

God is our salvation. We are saved from our sins by Jesus' sacrifice on the cross. 1 John 1:7-9 (ESV) tells us: "

But if we walk in the light, as he is in the light, we have fellowship with one another, and the blood of Jesus his Son cleanses us from all sin.

If we say we have no sin, we deceive ourselves, and the truth is not in us.

If we confess our sins, he is faithful and just to forgive us our sins and to cleanse us from all unrighteousness."

When we know that God is our light, and that our salvation is in him, we don't need to fear! In Isaiah 50:10, God says through his prophet Isaiah (ESV): "Who among you fears the 

Lord

 

and obeys the voice of his servant?

Let him who walks in darkness

and has no light

trust in the name of the 

Lord

and rely on his God." If we are far from God, we just have to call on the name of Jesus, confess Jesus is Lord, and trust him for salvation. We are saved and God enables us to confess our sins! (Want more help teaching the gospel to your kids? Grab this free poster and verse cards here.)
---
God is My Light Craft
Check out this fun video of the God is My Light craft!