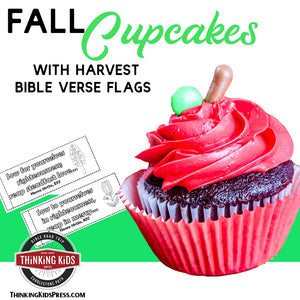 Fall Harvest Cupcakes with Harvest Bible Verse Flags
Regular price $3.00 $0.00 Sale
This is a printable PDF download.
These fun fall cupcakes are a great way to celebrate the harvest season and talk about the gospel.
You can even make some cute harvest Bible verse printable flags (just cut them out and glue them to toothpicks) to stick into the cupcakes .
The printable comes with a short Bible lesson from Hosea, printable harvest Bible verse flags in ESV and KJV in black-and-white for coloring, and with instructions for assembling your apple cupcakes with your kids.
---
FALL  CUPCAKES
Check out this fun video I made of the Fall Cupcakes!
---
TIPS FOR MAKING EASTER CUPCAKES WITH KIDS
Working on snack projects with kids is so much fun, but it can be a challenge. If you choose to involve your kids, I have a few suggestions for you.
Expect a mess. Put your child's long hair up, wash little hands, and have them wear washable clothes.
Prepare the food before hand. For little ones, the real fun is in the decorating, so do as much of the prep work as you can before you involve the kids.
Keep basic supplies on hand. I'm embarrassed to tell you how many types of sprinkles I have. We eat really healthy, but when we celebrate, there are always sprinkles involved. It's nice to have a little supply of food decorations. You know, for emergencies.
Set the food to be decorated on a child-size table or on a plastic table cloth on the floor. Nothing ruins the food decorating fun faster than having a child fall off a kitchen stool. Your kids will be intent on their decorating task. They may not remember they're standing high above the ground. (Don't ask me how many children fell off before I realized this!)
It's OK to do easy. We eat vegan, gluten-free cupcakes, so I make mine from scratch. But for special celebrations, there's nothing wrong with decorating store-made cupcakes, or an easy cake mix!
---
  Printing your flags:
Sometimes readers are concerned about using colored ink. If this is the case for you, there should be a setting on your printer that allows you to print in

 

black and white. Printing in grayscale will still use some color, but it will come out prettier than black and white
I recommend printing on

 

white cardstock

 

so the cards will be more durable and the back won't show through on the front. 
You'll need to cut them out and glue them onto toothpicks. The black and white flags are perfect for your kids to color in before adding them to the cupcakes!
---
---
Supplies Needed to Make Your Fall Harvest Cupcakes
You'll need a few supplies to make your project. You may have a few of these items already. If not, these are all fairly inexpensive and will serve you well for multiple projects.  
12 Cupcakes
2-3 Cups of Red Vanilla-Flavored Frosting
6 Tootsie Roll Midgies
12 Green M&M Candies
Large Open Star Tip
Piping Bag
Your Harvest Bible Verse Printable Flags
Cardstock, Toothpicks and a Glue Stick