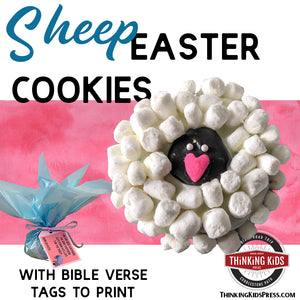 Easy Sheep Easter Cookies
Regular price $3.00 $0.00 Sale
Looking for Easy Easter Cookies? Check out these sheep decorated Easter cookies with Bible verse gift tags you can print. A perfect project to do with kids!
---
This product is a digital PDF download.
---

---
These sheep cookies are a fun way to talk about how believers in Christ are sheep.
There are some cute printable tags with John 10:11 on them you can tie to the cellophane-wrapped sheep cookies.
This easy Easter cookie project would be a fun gift to make a for neighbors, at Sunday school, or in a homeschool group.
---
Easy Decorated Easter Cookies
Check out this fun video I made of the Sheep Cookies!
---
Gift Tags to Print
Sign up for the Thinking Kids newsletter, and you'll receive encouragement, free gifts, and exclusive offers. Use this form and we'll send you a coupon code to purchase the Good Shepherd gift tags (with the cookie instructions) FREE.
  Printing your gift tags:
Sometimes readers are concerned about using colored ink. If this is the case for you, there should be a setting on your printer that allows you to print in black and white. Printing in grayscale will still use some color, but it will come out prettier than black and white
I recommend printing on white cardstock so the cards will be more durable and the back won't show through on the front. This is my very favorite cardstock: Neenah Premium Cardstock.
You'll need to cut them out and glue them onto toothpicks. You can choose the black and white flags for your kids to color in, or the already colorful set.
---
These cute Bible memory verse cards will teach your kids the doctrine of atonement!
---