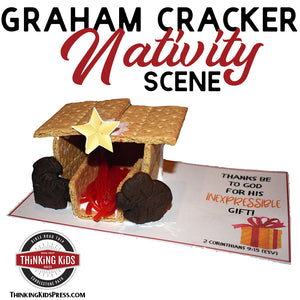 Easy Graham Cracker Nativity Scene
Regular price $3.00 $0.00 Sale
Check out this fun video I made of the Easy Graham Cracker Nativity Scene! You'll see everything you need to know to assemble your little Nativity.
This is a digital product.
---
Tips for Fun Snack Projects with Kids
Working on snack projects with kids is so much fun, but it can be a challenge. If you choose to involve your kids, I have a few suggestions for you.
Expect a mess. Put your child's long hair up, wash little hands, and have them wear washable clothes.
Prepare the food beforehand. For little ones, the real fun is in the decorating, so do as much of the prep work as you can before you involve the kids.
Keep basic supplies on hand. I'm embarrassed to tell you how many types of sprinkles I have. We eat really healthy, but when we celebrate, there are always sprinkles involved. It's nice to have a little supply of food decorations. You know, for emergencies.
Set the food to be decorated on a child-size table or on a plastic table cloth on the floor. Nothing ruins the food decorating fun faster than having a child fall off a kitchen stool. Your kids will be intent on their decorating task. They may not remember they're standing high above the ground. (Don't ask me how many children fell off chairs before I realized this!)
It's OK to do easy. We eat vegan and gluten-free, so I make many of our foods from scratch. But for special celebrations, there's nothing wrong with easy, store-made foods and decorations!
---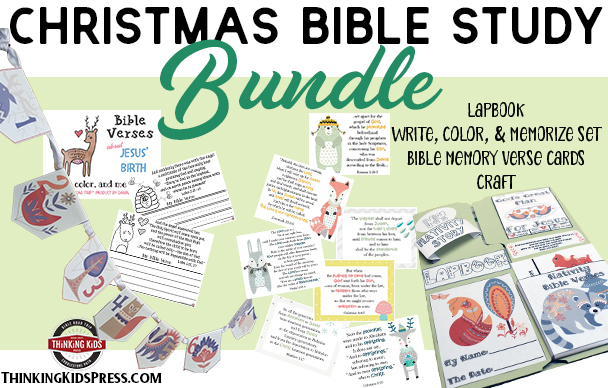 Teach your kids about Jesus with the Christmas Bible Study Bundle--and save!
---
---
Supplies Needed to Make Your Graham Cracker Nativity
You'll need a few supplies to make your Nativity snack. You may have a few of these items already. If not, these are all fairly inexpensive and will serve you well for multiple projects and snacks. You'll want to make sure you register above for the printable base and star. 
Your Nativity Scene Base & Stars (Register above for your printables, or purchase here.)
Cookie Icing (I like the icing that's already in a squeeze bottle!)
Pull and Peel Red Licorice
Animal Crackers (2 per Stable)
White Cardstock
Wax Paper