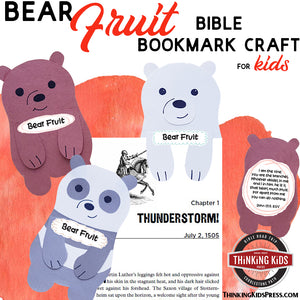 Bear Fruit Bible Bookmark Craft
Regular price $3.00 $0.00 Sale
This is a digital download.
Bible Bookmark Craft for Your Kids
Make this fun Bible bookmark craft with your kids to remind them that all fruit comes as a result of their relationship with Jesus.
You'll get instructions, a simple gospel lesson with verses, printable templates for your bear bookmarks, Bear Fruit and John 15:5 (in ESV or KJV) to apply to your bear bookmarks.  
---

Need a book to use your bookmarks with?
Teach your kids about Martin Luther, the Reformer.
Luther's story is exciting.
There are death defying moments, epic spiritual battles, narrow escapes, a kidnapping, revolution, and war.
As the "Father of the Reformation", Luther is a vital figure in Church history.
His sacrifice and willingness to wage battle against the spiritual, religious, and political powers of his medieval world allowed Christians throughout time to embrace the truth of salvation by grace alone through faith alone in Christ alone as explained by Scripture alone once again.